Wed Oct 16, 2013 5:23 pm


Not having this in S4 would be just wrong.
Wed Oct 16, 2013 7:05 pm
Grieffon wrote:I think Vinyl would be into house and trance as well.

Shining's singing is so awesome he gives fillies Cutie Mark.
Did they just reference the
"Little Girls"
songs?
Oh no, they didn't--!
Wed Oct 16, 2013 9:34 pm
Ok, this brings up a question now. How old is Vinyl now? We know she is a fillie in this comic and we can probably agree that Shining is a teenager in this comic, right? So would Vinyl be in her twenties now?
Wed Oct 16, 2013 9:58 pm
idk, sure?

I believe they left it pretty open so it can apply to everyone's imagination.
Thu Oct 17, 2013 12:44 am
But it's just so darn close following the wording of the lyrics to a T aside from a few pony substitutes.
Thu Oct 17, 2013 8:35 am
Best way to put it is to not question the ponies age as this comic from some years ago explains:
....
Thu Oct 17, 2013 9:31 pm
@Dibullba comic post:
... HA! Oh Cadance you crazy girl, you crazy.
I love it when the fandom portray Cadance as such a bitch.
Also, here's a link to a relative image that the comic reminded me of:
http://i.qkme.me/36hl6b.jpg
And here something else I found in my internet travels. Its an image of Tiny Tina with a gun riding on Pinkie who are both off to frag some poor bastard.
I find this image almost demonically cute:
Fri Oct 18, 2013 8:39 am
linking this, as the comment is important to understanding
http://danbooru.donmai.us/posts/1527649
Fri Oct 18, 2013 9:03 am
You know what I find surprising about this. Back in February, Pokemon Re-Enacted by Ponies was released on youtube with Applebloom as Pikachu. The Japanese dub did not release until April.... the more you know.
Fri Oct 18, 2013 10:23 pm
In the Japanese dub, Applebloom shares Pikachu's voice actress.
Whoa... Neat.
And that is a trippy coincidence, Dib.
Sat Oct 19, 2013 12:35 am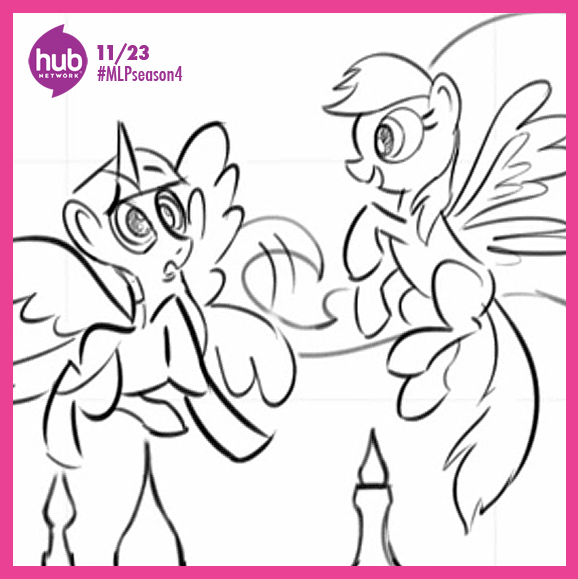 Flight lesson confirmed for S4. That is too good of an idea not to use.
Sat Oct 19, 2013 2:22 am
Yay!

Also, some videos.



Something funny.



And someTHING THAT MAKES ME ANGRY FOR JUST FINDING! GRRR! GANON, I AM DISAPPOINT! UPDATE US BRO!

Was fun hearing Couch's voice though. He has a nice one. And that Velvet... One voice though wasn't there that I was hoping for, but oh well.
Sat Oct 19, 2013 11:26 am
He did say something about a project animation of his fanfic. But what more?!
BTW:
Eeyup.
It's Bleedman once again.
Grivous.
Sat Oct 19, 2013 8:42 pm
Yeah man, that pic has been on the site for a while:
viewtopic.php?f=2&t=50049&p=3441014#p3440998
imho, I like it a lot better then the stuff bleed usually draws.
Sun Oct 20, 2013 7:39 am
HNNNNNNNNGGGGHHH *seizes*
Sun Oct 20, 2013 10:53 am
Btw Kusang, a few days ago I mentioned Eilemonty. If you were curious of her voice acting talent, here is a demo reel she posted up.

Mon Oct 21, 2013 12:27 am
@Kusang: That would surely come in handy for artists
1. Spike may get wings. His VA's tweet just hint at it even more

2. S4 opening is probably the same, with wings pasted on to Twilight. That would be a bit disappointing, I'd hoped they would do something new.
Mon Oct 21, 2013 4:44 am
It's always interesting seeing new MLP Hot Minute videos. The lip synching/editing looks better and seeing possible spoiler animation is fun.
Also, is it me or did Tabitha St. Germain sound a bit different than her usual Rarity performance?
Also also:
Um... At 48 seconds... Canon?
Also also also...
THIS
IS
TOO
FREAKIN
CUTE
Mon Oct 21, 2013 7:39 am
Rainbow Dash stahp D=

Edit:

Mon Oct 21, 2013 7:35 pm
more like Stalker Scootaloo than Rainbow Dash.
I do not care how cute something is, if it acts like a creeper, I will present a weapon to it and demand a cessation of creeper activities.
This has the bonus effect of an additionally cute breakdown and tearful apology. Looks like I'm the victor here.
Tue Oct 22, 2013 7:16 pm
I found this and thought it belonged here.
Wed Oct 23, 2013 3:19 pm
The fourth season begins with a revealing two-part premiere in which the newly
crowned Princess Twilight must balance her new royal duties and her friendship with
the other ponies. Amid preparations for the Summer Sun Celebration in Canterlot,
Princesses Celestria and Luna go missing and the Everfree Forest is taking over
Equestria. These unexpected turn of events sends Princess Twilight and her pony
friends on a quest to discover a mysterious foe who threatens to destroy everything. It is
all up to Princess Twilight and her friends to help save Equestria from being destroyed.
As part of the journey, PrincessTwilight is given the chance to discover the secret
behind the Elements of Harmony.
Source
This definitely looks promising for an exciting season 4.
Last edited by
Grieffon
on Thu Oct 24, 2013 12:14 am, edited 1 time in total.
Wed Oct 23, 2013 6:03 pm
Shouldn't that be spoiler tagged Grieffon?
Wed Oct 23, 2013 8:40 pm
YES!

I DID IT AGAIN. I READ IT ALL. D:

Grivous.