Tue Sep 24, 2013 5:41 am
In the words of the guy who drew this:
Every good DJ does thier homework.
Let the music flow Vinyl. Its the most universal language out there.
--
Tue Sep 24, 2013 5:46 am
Seems NSFW, so linking this
You know, just to be safe. But gosh is it adorably animated.
Same thing with
this thing
which is fiercely adorable but also might be NSFW...
But damn them for be so cute and fluffy and GUH!
Tue Sep 24, 2013 8:09 am
So the Doctor Whooves Comic has finally come to an
end.
What a freakin story, you can really tell how dedicated this guy was to Doctor Who. If you have not yet read the comics,
here is the beginning.
Also some feels:
Tue Sep 24, 2013 8:27 am
So much FEELS. Hnnngggh!
Teaser: There will be a scootaloo episode.
Admit it. You know she does.
Tue Sep 24, 2013 8:32 am
I do NOT know how I feel about that.
Tue Sep 24, 2013 8:50 am
Tara seem to think so.
About time someone did this.
Tue Sep 24, 2013 9:41 am
A few more dreams like that and Flutter may joining Lyra's craving to have fingers.............(sorry had to say it)
Tue Sep 24, 2013 9:17 pm
That is a very smooth animation, followed by a very smooth Tara reaction.
Also:
Don't remember if someone's posted this in the past, but gosh darn it it's adorable...
Wed Sep 25, 2013 12:58 pm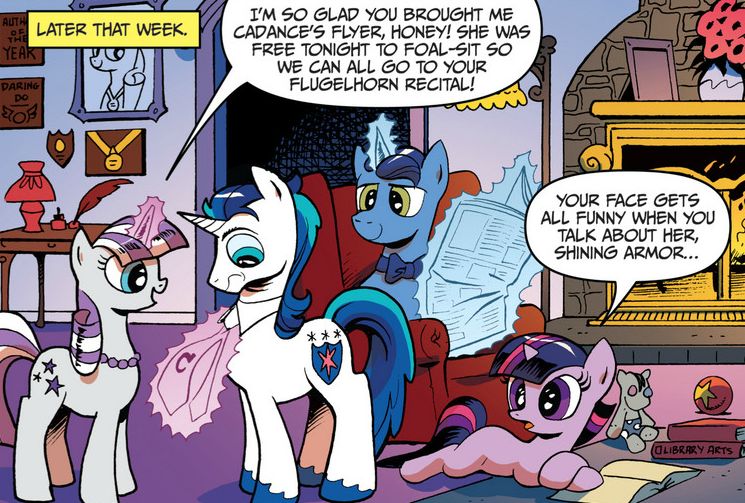 In the top left corner is the official answer to the question that has been around since S2.
Wed Sep 25, 2013 1:19 pm
WHELP, guess I can sleep soundly from here on out with that mystery at rest.
Thu Sep 26, 2013 4:22 am
I've found this really cute Rainbowdash picture, and I wanted to share it with you guys.
Thu Sep 26, 2013 5:09 am
That's actually one of the links I posted at the top of the page. Was wary and posted it as possible NSFW due to reasons uwu
Thu Sep 26, 2013 10:40 am


BONBONBONBONBONBONBONBONBONBONBONBONBONBONBONBONBONBON
Thu Sep 26, 2013 3:36 pm
I must share a most delightful fanfic with you all. I haven't had so much joy in reading a fanfiction like this one until I got into reading MLP fanfics... Hmm, also it was very enthralling and difficult for me to put down, even when my head and eyes were screaming at me to get some rest, still I had to press on until I finished it. Probably some of you have read it or heard of it -
Night's Favoured Child
.
It's a what if situation, where Nightmare Moon won the fight and banished Celestia. It tells of how Twilight became the personal student of Nightmare. It also makes several shout outs to characters that were fun to find, such as King Sombra, Shining Armor, Trixie, Prince Blueblood, the Apples, and Rainbow Dash.
I highly recommend it to those that enjoy reading MLP fanfictions.
Fri Sep 27, 2013 6:10 am
Grieffon wrote:

In the top left corner is the official answer to the question that has been around since S2.
You mean this?
Blowing all minds in the world.
Grivous.
Fri Sep 27, 2013 8:44 am
Hmm, wonder if RD knows this as well. With TV being the author; all of TS's copies are presumably presentation copies, and there is a high likelihood that they are all also personally inscribed (a lot of authors do that even for the copies they keep, since they know that, down the road, if the book is popular, that inscription will add a great deal to the books value.) In which case, RD would presumably have seen the dedication when she opened the book. It also might explain TS's near encyclopedic knowledge of the other mythical creatures of Equestria and their habits (not that she isn't nerdy enough to have found it all out on her own). Giving the number of them that Darin Do presumably faces off against in her stories, I imagine TV was constantly doing a lot of research on them.
Fri Sep 27, 2013 10:09 am
It is also possible that TV uses a pen name with Daring Do for anonymity.
Fri Sep 27, 2013 10:56 am
Possibly, but the dedication could still read something like "To my dear daughter, (insert
nom de plume
here). The issue is not RD knowing the name of whoever writes the books, but her knowing that that person is Twilight's mother.
Fri Sep 27, 2013 2:30 pm
I want this to be an episode now... Like... so freakin bad. She finally notices TV is the author like her dropping by to see her Daughter and it coming up in conversation, leading to RD cozying up to her. They have a boring day, but RD keeps up a smile while questioning how such a boring person could have written Daring Do. Finally near the end she finding out about TV's own adventures (which would be a great time to reference the original MLP) and basically ending with RD learning slightly different and more in-depth lesson like from Bridle Gossip about not judging a book by its cover.
Also, don't remember if I posted this:
Fri Sep 27, 2013 3:26 pm
Sorry for the double post, but this needed its own.



Well that was pleasant and unexpected.
Fri Sep 27, 2013 7:11 pm
Suitably murderously insane sounding.
Fri Sep 27, 2013 7:19 pm
Slightly confused, but okay.
Fri Sep 27, 2013 10:29 pm
Sat Sep 28, 2013 1:40 am
Holy shit, Fluttershy sounded like she was a Higurashi character. (At least that laugh reminds me of Higurashi.)