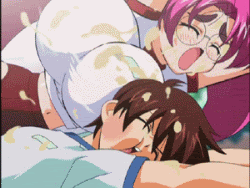 Back, bitches.
mosama wrote:
AND I COME BARING KINKY ASIAN GIF. The void frieza has left must be filled.
Daww, so you DO care! =D Just for that, I'm gonna do some fan art!
Now, about the page. I have a quick question; do souls become virgins again after they enter the afterlife? If so, our devil lady could still be a virgin. I'm guessing she didn't get pregnant by having sex, because souls have sex all the time and don't get pregnant (at least in Hell).
Of course, this is presuming that she didn't have sex to begin with...