Thu Feb 21, 2013 9:24 pm
I changed my vote to Tuor and then someone changed theirs to Val just to make sure QU won.
Thu Feb 21, 2013 9:32 pm
Qu doesnt count.
Thu Feb 21, 2013 9:55 pm
Rigged elections, now it really feels like the real deal.
Thu Feb 21, 2013 9:59 pm
*raises one fist to shake at the corrupting influence of gambling, uses other hand to scoop Internets into a great big heaping pile*
Thu Feb 21, 2013 10:05 pm
Mir@k wrote:Qu doesnt count.
I'm with Mir. Its way weird that he some how managed to collect 18 votes in less than 12 hours. Blordy's guess here is that he reached out to some old members and got them to sign back on just to vote for him. Still, 18 people came back to snafu just to vote and not leave a single word? That's hard to believe. The whole thing seems odd.
Hiryu wrote:Rigged elections, now it really feels like the real deal.
They do get a A for realism. But will the move damage the reputation of events like this again?
Thu Feb 21, 2013 10:07 pm
Quick, Val! Become Tuor's second in command and shift all your votes to him!
Thu Feb 21, 2013 10:52 pm
I wish QU could still be in my foe list.
Fri Feb 22, 2013 2:09 am
We demand a recount!
Also, I want to move my vote back to Val, I just went to Tuor to tie up him and Grey again.
Fri Feb 22, 2013 3:50 am
If you were a true Val supporter, you would never have move your vote off of him. Like me.


Now as promised, everybody give a warm welcome, to VP Yoshi! And his blueprints for building a Death Star. From today onwards, this forum will be transformed from a peaceful messaging board, to the FIRST INTERNET EMPIRE!
Fri Feb 22, 2013 4:22 am
*holds world on shoulders, shrugs, and the words AYN RAND appear with the ding of a tiny bell to freeze my movement as I am shrugging*
Fri Feb 22, 2013 4:22 am
i've added a new option to the poll and re-opened voting for a recount.

(which seems to have deleted the previous poll results, whoops. let's just call it a new poll.)
Fri Feb 22, 2013 4:23 am
oh well if we're going to do
THAT
Fri Feb 22, 2013 4:25 am
*Bill The ButcheR*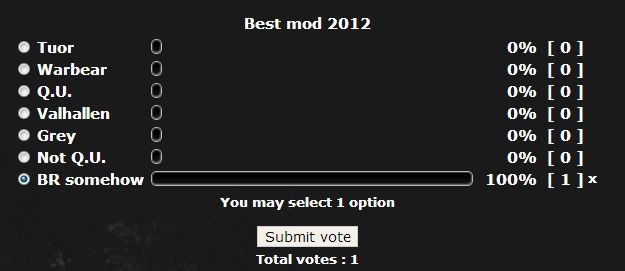 That, my friends... is the minority vote.
*sees Warbear's vote, dividing his statistics, and that music where Spike from Cowboy Bebop is flung in slow-motion through a stain-glass window starts playing and BR does that exact thing only he has to fling himself out*
Fri Feb 22, 2013 4:47 am
I feel I've been victimised here.


You know, if I were you instead of erasing the poll I would have just changed the thread title to "The biggest douche in the universe" vote. And then finished it off with this:






Then again, I suppose we don't share the sense of humour.
Fri Feb 22, 2013 7:45 am
I know why he won, I know why he was voted on, no I do not care about what you think about that.
Q.U. Won.
You get one wish from me Q.U. (forum related)
Fri Feb 22, 2013 12:25 pm
I think we all know that the true winner was ME, seeing so many people voted for nobody.



I am honored to be the winner without even being a mod.
Fri Feb 22, 2013 1:13 pm
QU has won the popular vote, the electoral college AND the mid-west 1993 yodelling regional semi-finals

i tip my hat
Sat Feb 23, 2013 2:24 am
I really don't get why QU is always being shit on but whatever...
Kudos to you for winning QU.