Tue Jan 29, 2013 2:25 pm
Yeah.
Color coded bullshit it was, still my favorite of 3.
Tue Jan 29, 2013 2:27 pm
I still fully believe in the indoctrination theory so I say red was the way to go.
Tue Jan 29, 2013 2:28 pm
also pls cremate me i dont want to wake up inside a coffin 6ft underground oh god
Tue Jan 29, 2013 2:35 pm
I want to be cremated cuz burial is such a waste of space
Tue Jan 29, 2013 3:25 pm
What do you want your ashes stored in/spread over?

I want my Ashes to be given some sort of steel or silver coca-cola bottle replica. Others must know my love of cola.
Tue Jan 29, 2013 3:28 pm
I want to be shot to the moon.
Tue Jan 29, 2013 3:42 pm
hopefully when i die there will be atomisation so i don't have to deal with the bullshit of cremation and my basic components can just be re-released into the cosmos to be used for whatever the universe needs
i don't want there to be any dirty leftover ash and i definitely don't want to be a rotting lump of meat in a box, but cremation is definitely preferable.
in terms of how i actually
die
, though?
instantly, however it happens.
Wed Jan 30, 2013 12:34 am
What I got from the above:
Wed Jan 30, 2013 1:30 am
Zelosse wrote:spread over
i imagined ash and nutella spread over a slice of bread.
Wed Jan 30, 2013 1:36 am
I'm pretty late to this, but I want to die as a last resort. You know, when the hero tries to defeat the army of enemies and finally reaches the boss. He kills the boss, sacrificing his life to save everyone. I want to die like that; as a sacrifice to save everyone.
Wed Jan 30, 2013 1:37 am
Hmm, interesting
Wed Jan 30, 2013 1:32 pm
very likely, given the impending mineral wars
Thu Jan 31, 2013 1:48 am
Of old age.
Thu Jan 31, 2013 1:37 pm
Senel wrote:Taking as many people with me as I can.
The only true way
Thu Jan 31, 2013 2:40 pm
above two answers are boring and predictable

come on guys, shape up
Thu Jan 31, 2013 4:18 pm
Giving really awesome cunnilingus.
Thu Jan 31, 2013 4:24 pm
Another fun way to die would be office jousting.

In order to decide who is worthy of that final promotion, two men on separate chairs will be given sharpened broom handled and a briefcase. ONE MUST FALL FOR THE OTHER TO RISE!
Oh and I don't mean 'falls off the chair' I mean 'gets skewered on the sharpened broom handle".
Thu Jan 31, 2013 4:25 pm
I approve
Thu Jan 31, 2013 5:03 pm
Two men enter
One man leaves
Thu Jan 31, 2013 5:24 pm
the other guy leaves later in a box.

i mean, we all still work here. we aren't gonna just leave the corpse right by the water cooler, are we? it'd stink by monday.
Thu Jan 31, 2013 5:26 pm
We'd have our own personal morgue, used exclusively to show people just how seriously we want them to take the job. If you want to be somebody you have to risk everything.
Everything.
Thu Jan 31, 2013 8:27 pm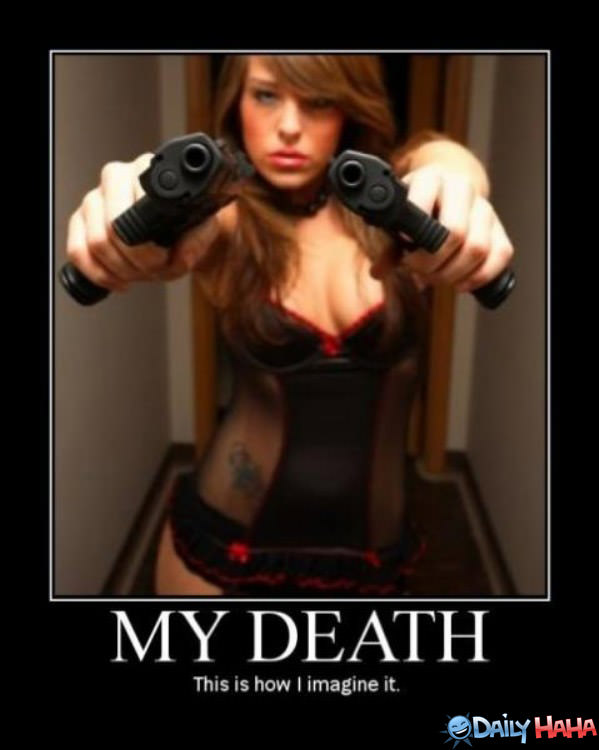 Thu Jan 31, 2013 8:27 pm
she's gonna burn her arms with the casings holding them like that
Thu Jan 31, 2013 8:28 pm
I can't stop staring at her guns
Thu Jan 31, 2013 8:30 pm
also holy fuck I want that lingerie