Fri Nov 01, 2013 8:16 pm
I don't think that would work at all, we've spread out far and wide. Hell, I once spent a couple of hours flying over a never ending ocean just to try finding new terrain.
Fri Nov 01, 2013 9:05 pm
I'd prefer a new map, but I'm not the one that actually built anything.
Sat Nov 02, 2013 7:17 am
Yeah, new map would be better. Can't even keep all my valuables in my inventory either.

Another method I came across would be having people move their precious stuff to the nether though, then only deleting the main world file. Dunno if that's smarter now that people have already been screenshotting their inventory, but it's an option.
Sat Nov 02, 2013 7:36 am
That's... Actually not a bad idea. Except for one problem.
Wouldn't we generate a new entrance away from our crap when we make the new map? We'll need something like Rei's Minimap to mark a waypoint to our stuff in the nether.
Sat Nov 02, 2013 8:37 am
Well, people should make sure to log out in the Nether, with their stuff. Even if they didn't, I think they would spawn in the overworld at the same coordinates on the new map, so a portal would take them somewhere close to where they left it.
Sat Nov 02, 2013 8:53 am
But won't creating a new map reset our locations, even if we're in the nether?
Sat Nov 02, 2013 9:23 am
I think the player's coordinates are saved in their own file, rather than the world's, but I can test it real quick.

EDIT: Yup, player position is saved in it's own file. The only thing that needs be deleted is the overworlds region file, which basically only contains block data. Even if it weren't like this, deleting it couldn't impact the players if they were in the nether, since that's a different region file. Level.dat can also be deleted if a new seed is preferred, but I don't think that'll be nessecary, since the new biome generation will probably make the same seed look very different.
Sat Nov 02, 2013 11:52 am
Just bomb the map. Let's start over.
Sat Nov 02, 2013 12:09 pm
I have nothing against building a new houses, reigning in animals and collecting the basic resources again. I do have something against building the exact same Iron Farm again in survival mode, that shit be tediously specific, and having to farm for the stacks of redstone and diamonds I have to use for future projects again. However that's done the easiest, I'm down for.
Sat Nov 02, 2013 8:48 pm
We star all over and begin making a multi room hotel.
Sat Nov 02, 2013 8:49 pm
Made out of marble
Sat Nov 02, 2013 10:40 pm
Out of curiosity, do you plan to have a normal map, or an AMPLIFIED map?

I've been playing with friends on a handful of low populated Amplified servers, and imo it's beautiful. With more possibilities too. Earlier today, I was on top of a high rise(bow and arrows in hand) watching friends about 30-40 blocks below. They were clearing a forest at night.
We labled the areas of the forest. I was telling them where mobs were spawning, and if they agro'd. Got a couple snipe kills. :3

It was an experience that we just haven't had. All this was around 200 height. Just asking :p
Sat Nov 02, 2013 10:50 pm
I've never tried it before, this is the only server i play in and single player seems like a waste of time to me.
Sat Nov 02, 2013 11:17 pm
I only go to single player to test out new options. Like the 'super secret settings' and to look at the amplified map for the first time.
Sun Nov 03, 2013 4:54 am
Amplified maps are pretty, but they're also very impractical. You have climb mountains and jump ravines to get anywhere, you can't find a decent plot of flat land to build on, they're many dark overhangs that constantly spawn mobs AND, as they mention, it's a resource hog, not everyone may even be able to play on a amplified map. I'd rather we just use a standard one.
Sun Nov 03, 2013 5:25 am
Last I checked everything about Minecraft was a resource hog.
Sun Nov 03, 2013 6:02 am
Well, yeah, but amplified takes something like 10 or 20 off my fps, and I have a decent comp.
Sun Nov 03, 2013 1:21 pm
I don't think amplified will be the best option for the server. I can only reach 40 fps at times with my machine, don't even wanna imagine my friends that have worse computers.
All of my and Hana's important items are now safe.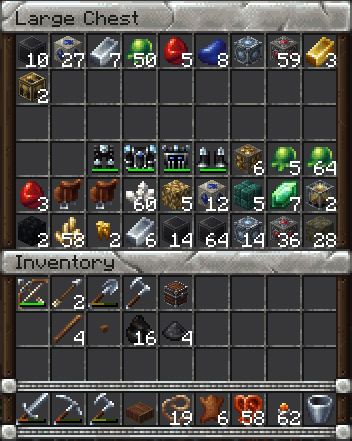 Sun Nov 03, 2013 2:01 pm
In the nether?
Sun Nov 03, 2013 2:18 pm
I meant in the form of a screenshot.
Sun Nov 03, 2013 2:40 pm
Hm, heard nothing from Morpheus? He stands to lose a lot, so maybe we should contact him.
Sun Nov 03, 2013 3:23 pm
Hasn't been on steam for 13 days. Wonder where he went.
Sun Nov 03, 2013 3:25 pm
I don't have much.
Sun Nov 03, 2013 4:24 pm
Mon Nov 04, 2013 12:41 am
oh look it's a wild fummo