Well, that took a while. Sorry for the delay. I did not remove higher quote levels as usual in order to help everyone keep track of the lines of conversation.
Rough Giraffe wrote:
The picture is arranged from stage left (political Right/fiscal or political conservative) to stage right (political Left/Liberal or Progressive).
Valhallen wrote:
And yet state and local governments are part of "the government" often criticized for being too big and intrusive (and they're the ones that interfere more with day to day actions). Even though Obama isn't responsible for it (and rather wanted more aid to fill budget shortfalls that resulted in state and local layoffs), the fact of the matter is that "the government" employs fewer people than it did before Obama took office.
My initial point was to call attention to how you seemed to be applying a narrative based on what certain modern pundits say and imply rather than what presidents have actually done. In particular, discussion of Obama
often
frames
it
as
a
fait accompli that Obama has grown the government by doing something characterized as transforming the country into a socialist / communist welfare state with government health care, when that is not what he actually did.
Rough Giraffe wrote:
if the same policies were always in place
. Therefore, absolute comparisons over time are not very meaningful (For example, about 125 times as much was spent on defense in 2010 as the entire US GDP in 1800 in real terms - can you tell from that which administration was more hawkish?). To make valid comparisons about the societal impact of policies, absolute numbers must be judged against the size of the population, economy, previous policies, etc. For example, between Obama and Reagan, whose economic record is more "conservative", and whose is more "liberal"? Who ran a larger federal government? Who grew the government more? Who raised taxes more? Who grew the deficit more? The actual answers might not fit the popular "conservative" narrative, but
it
does
help
explain
things
like
this
.
Rough Giraffe wrote:
jobs bill
?
Rough Giraffe wrote:
is not exactly mysterious
. There's stuff written about it, even. What I'm getting at is that you have somehow reached the conclusion that "Nixon was, and is, to the Right of Obama." I'm asking how you got there. Do you have a rationale? Do you see "Rightist" and "Leftist" as
identities intrinsic to people
, or do they depend on their actions or proposals? Sure, people can do things normally associated with different parts of the political spectrum, but it is still possible to say that one person is more or less in one direction than another. Also keep in mind that "Left" and "Right" do not map perfectly to "Democrat" and "Republican", especially historically (I'll say more about that later). It's pretty easy to build a case that Nixon was (past tense as he has died) farther left than Obama:
<NSFW>
here, for example
. (The author has a thing for women in overalls, but he makes
a good point
.)
</NSFW>
And by reasonable standards, Obama
is rather to the right
.
On that note, consider that "Left" and "Right" are not the only distinctions to be made in politics, which has led to
a popular model involving a two dimensional arrangement of possibilities
.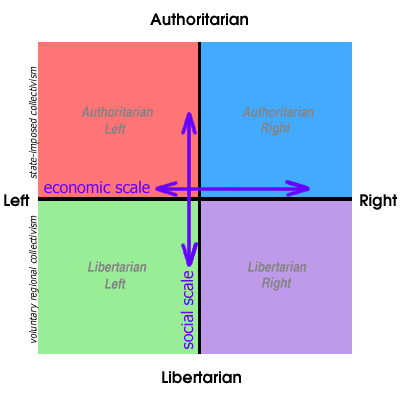 The folks at
The Political Compass
rate the current election field like this:
Stewart Alexander, for example, is the
Socialist Party USA
candidate. You can
see for yourself
where you fit for comparison. In a scheme like that, real-world Communists (as opposed to ideological Marxists) go in the upper left corner, Dictatorships go along the top, with the example of Nazis edging a bit to the right. Theocrats go in the upper right. The left and right middles are kind of generic socialism and free capitalism respectively. Hippy communes and
bloody peasants
go in the bottom left corner, anarchists in general go along the bottom, and anarcho-capitalism goes in the bottom right corner. Modern democracies with mixed economies tend to be around the middle, often a bit on the authoritarian side, and the US is currently among the right-most of the major ones. Nixon was rather authoritarian and paranoid, which got him in trouble. Obama may be comparably authoritarian by some measures, but he seems to be less paranoid.
Rough Giraffe wrote:
liberal
" and "
conservative
". Basically, liberals want to fix problems in the status quo (though doing so may risk new problems), and conservatives want to preserve nice things in the status quo or recent past (even if that preserves some problems). They are the basic stances for considering policies, and a society doesn't work very well without both generating a reasoned dialogue. Going more to the "right", there are
reactionaries
who often want substantial change to protect or bring back old policies or ideals, such as the Iranian revolutionaries who turned the country into a theocracy. In the other direction are
radicals
who want major societal change in new directions, such as revolutionary Communists. So saying that liberals wanted to abolish slavery while conservatives wanted to keep it is a matter of basic definitions. You can use different definitions if you want, but I'm curious as to whether or not you can actually provide cohesive definitions for "what it means to be a Consevative". Seriously, a lot of people these days use Conservative = good, Liberal = bad without having a set of criteria for what fit in each category. When you say that something is Conservative, do you mean that it is good, or do you mean that it fits a particular political ideology with detailed stances on various issues?
Rough Giraffe wrote:
Southern Strategy
took advantage of that, winning the South but losing blacks nationwide. Democrats came to power in the North with their new more liberal social policies, and Republicans adopted more conservative social policies popular in the South. And here we are.
To put this in perspective another way, consider the Jim Crow system of segregation in the South in the mid 20th Century*. If someone advocated such a position in 1700, that person would be a revolutionary radical. An advocate of that position in 1850 would be a liberal desiring change within the current political system (and probably a Republican). An advocate in 1950 would be a conservative seeking to maintain the status quo (and probably a southerner, whether Democratic or Republican). And an advocate in 2000 would be a reactionary wanting major change back to an older system.
*Incidentally, this rather aligns with Lincoln's personal views on the appropriate social order for blacks. Moving things in that direction was liberal for his time, but he would have been a conservative had he had the same views a century later.
Also, I see that you used the phrasing "It was the
Democrat
party that desired to...". Since the party is
actually called
the
Democratic
Party, I'm curious about your word choice there. I've seen self-described "Conservatives" use "Democrat" either in apparently disparaging ways or in claims that it is the correct name of the party. What was your intention, if that was intentional?
Rough Giraffe wrote:
NAMBLA
perceive laws prohibiting sex with minors as wrong, and they want to change them through legal reform, which makes them liberal with respect to that issue. It doesn't matter that their reasons aren't very good. Conversely, people who valued the institution of slavery and wanted to preserve it were conservative with respect to that issue, as are people who want to preserve the prohibition of sex with minors with respect to that issue.
Rough Giraffe wrote:
Northerners who spoke out against him
. That's quite a bit more dictatorial than what Obama is accused of. It seems that dictatorial actions tend to get a pass when they are effective, like Obama's drone strikes, but that does not make them less dictatorial.
Rough Giraffe wrote:
Here
. Gradeschool education usually presents a sanitized theme park version of history that glosses over negative aspects of "national heroes" like Lincoln's dictatorial tendencies or Benjamin Franklin's philandering. Have you ever taken a college-level history course? Incidentally, a lot of the push to sanitize gradeschool textbooks these days comes from Texas "Conservatives" who wield a large degree of control over the national textbook market. You might check it out; it's kind of interesting.
Rough Giraffe wrote:
But so what if he did? People on both the Right and the Left have done that. I don't think it's right for them to have done so, but why does that mean he's not a Republican or Whig or whatever it was he thought himself to be at the time?
If he did (despite being a Republican), do you think it is inappropriate that he (being dictatorial and society-overthrowing) was placed where he was if the "The Forgotten Man" painting had figures arranged on a left-right political scale?
Rough Giraffe wrote:
set records for deportation numbers
while focusing more on deporting criminals
.
Rough Giraffe wrote:
How about the fact that, when evidence exists that Eric Holder, head of the Justice Department, may have bypassed congress in order to promote his anti-gun agenda, Obama agrees to extend Executive Privilege on documents that may have been harmful to his case?
Except that
the investigation cleared Holder
, and
that use of executive privilege seems to be fairly standard as such things go
. It's not just allegations of conspiracies by partisans that matter, it's actual evidence of wrongdoing. Does this remind you of other manufactured controversies like with
ACORN
?
Rough Giraffe wrote:
How about the Cybersecurity Act of 2009 (which thankfully failed) that would have given the President the right to shut down the internet without congressional approval due to any kind of "Cybersecurity Emergency?" That doesn't sound like a power a dictator might use? How many more things do I need to list here?
Sure, it sounds like the kind of power a dictator might use, but that bill never even made it to vote, and Obama has threatened to veto similar subsequent bills. So how does this support your point? As for how many things you have to list, if you're trying to show that Obama is more dictatorial than Lincoln, I don't think the number matters, because I don't think that anything Obama has done is as dictatorial as what Lincoln did (i.e. unlawfully imprisoning his political opponents and shutting down critical newspapers). Or did you have a different point?
Rough Giraffe wrote:
Actually
, that's pretty much exactly what it is, at least in
its practical consequences
. The ban on direct contributions wasn't affected because corporations spending money on political ads is not a direct
contribution
, it is direct
advocacy
. The money never actually goes to a campaign, so corporations can now spend as much as they want on that kind of independent (wink wink, nudge nudge) activity. You might check out some of the
fun
antics
Stephen Colbert has been getting up to with his superPAC.
Rough Giraffe wrote:
Not exactly
. Corporate personhood is the idea that corporations as legal constructs function in certain ways as individual people in a legal sense, such as the ability to own property, enter contracts, buy and sell stuff, etc. However, this does not mean that corporations start with the full Constitutional protections of citizens and then have certain ones removed; rather, they start as non-entities and are granted a particular subset of Constitutional and legal protections in order to carry out their business as collective entities. In this sense, the Citizens United verdict was
rather unusual
in that it said that the rights of a corporation are in some way derived from the people that make it up. Keep in mind that the "speech" of a corporation does not represent its shareholders or general employees, but rather the executives and board of directors (who are the ones with control over what ads are produced). Do you think that corporations should be able to vote in elections as their constituents can? Should their votes count as much as their constituents considered together? People in favor of an amendment to overturn the Citizens United verdict are generally against the interpretation that corporations should enjoy unrestricted "free speech" to spend money on elections, giving them much greater control over laws than the previous lobbying system, and not against the proposition that corporations can do business as legal entities.
Rough Giraffe wrote:
marketplace
of ideas). With superPACS allowing corporations to directly funnel their enormous disposable incomes into elections,
the pattern has reversed
(look at the graphs, especially the bottom one). It certainly looks like someone is trying to buy elections.
Look at the charts
of what organizations are spending the most in 2011 and 2012, not just the ones who spent the most in history. As you do so, consider the information about the organizations listed in
your link
. The top Democratic-leaning organizations are mostly organizations that aggregate smaller private contributions or represent the interests of groups of working people, while the top Republican-leaning organizations are mostly corporations contributing to advance their own interests (or at least the interests of those in charge of making the donations). Now look at
this
, which shows Republican-aligned outside organizations outspending Democratic-aligned outside organizations nearly five to one. Remember
this
article? It has some relevant information about who can afford political speech when it is at auction.
Rough Giraffe wrote:
don't
want public ownership of the means of production. What you're describing doesn't fit the real world, where the closest thing to that is the proposal for a single-payer health care system (which wasn't even seriously proposed in the health care debate that resulted in the Obamacare expansion of private insurance, and isn't in "The People's Budget"), and even that
doesn't actually nationalize private hospitals, it would just set up a national government-run insurance program like what funds the VA hospitals and Medicare, where private insurance would still be allowed to compete
. What world do you live in? Do you understand
what Communists actually want
?
Rough Giraffe wrote:
Their solution to everything seems to be to throw money at their favored organizations (Solyndra), rather than letting the people take care of it themselves.
If there is a problem, it usually means that "the people" aren't taking care of it themselves. If a problem is to be fixed, it will probably take time and effort, which cost money. So yes, solutions to most every problem worthy of a government's attention involve money somewhere and one or more organizations tasked with fixing it. Even when the problem is waste of money, it takes some money to fund the effort to make things more efficient. I'll explain what happened with Solyndra later, where I'll contrast it with a case of the government
actually
throwing money at favored organizations.
Rough Giraffe wrote:
shrink
the size of the government (or it would have relative to the baseline size when it was drafted, the current size might be smaller than the budget's target for this time). And it doesn't just
assume
those things; there are reasons given in the
technical analysis
(did you read it before you made your statements?). The GDP growth used is modest by historical standards, and much less than the assumptions underlying
this
critique of Romney's proposals. Whatever the economic growth, "The People's Budget" is the most effective at reducing deficit and debt of any serious proposals during Obama's presidency, and the only one that produces a surplus as early as 2021. Ryan's original "extreme" budget
doesn't even come close
, and Romney's is much worse. If you have found an inherent flaw, could you explain it?
Also, in case you are unaware, the economy is driven by supply responding to demand. The current problem is insufficient demand to fully utilize supply, so "job creators" aren't hiring very much. Which do you think would increase demand more: high-income tax cuts and decreasing social spending, or low-income tax cuts and increasing social spending? Keep in mind that taxes don't inhibit "job creators" from hiring, because it is
profit
, not
gross income
that is taxed. Firms usually try to hire the
right number
of people to be most profitable, and that depends on the demand they are supplying, not on the tax rate that profit is subject to. Do you think that demand would go up or down if the major infrastructure projects and other public investments in "The People's Budget" were implemented?
Rough Giraffe wrote:
here
, beginning where I said, "That the government can stimulate the economy is based on the (quite obvious) idea that the government can both give money to people (who then spend it) and hire people to do stuff (which produces goods, services, and jobs, and gives those people money to spend). An action that results in people doing stuff and spending money when they otherwise wouldn't is an economic stimulus. This is incorporated into the aggregate demand curve of the
Aggregate Demand - Aggregate Supply model
. It's based on Keynes's work, but it's a basic component of various modern economic models, including the supply-side economics of Presidents Reagan and W. Bush. Demand-side (what's usually considered the Keynesian approach) and supply-side plans disagree about where the
AD curve crosses the AS curve
(link changed due to linkrot) (thus the relative elasticity of AD and AS), and therefore the optimal strategy for improving things. Note that implementations of supply-side economics have run large Keynesian-style deficits in attempts to stimulate the economy, though the deficits are targeted at incentives for the supply side like reducing corporate and top bracket income tax rates."
Reagan's policies as implemented were rather different from the ideology stated to be behind them. He ran large deficits from a combination of supply-side stimulus and pragmatic expenses like running the Soviet Union into the ground. The post I linked above touches on that too, so you might want to read through the rest of it to avoid treading old ground. Some other parts of the thread are relevant too.
Rough Giraffe wrote:
these
posts
. It's an empirical observation that the best economic growth over the last century has been with a rather high top income tax rate. Linkrot has set in there to some extent, but you can find the statistical analysis mentioned in the second post
here
. See
these
images
for the gist, though I would appreciate it if you did look at the posts. As for why this is so, it's probably a combination of factors. A high top marginal rate acts to reduce wealth disparity, which helps prevent the wealthy from gaining
a harmful degree of control
over the economy. It also encourages wealthy people to prioritize economic power (growing their companies with long-term internal investments and such) over using those resources directly for personal enrichment. It also acts to reduce the spare idle money which the wealthy would put towards low-return investments (because they already have plenty of money for high-return investments associated with meeting a market demand), which reduces the risk of economic bubbles and puts more money (by way of reducing low / medium income tax burdens) in the hands of consumers, who drive up demand. Do you think that such considerations have something to do with
this
?
Rough Giraffe wrote:
move the goalposts
there. Seriously though, have you read the Constitution? I mean, just for an example:
Rough Giraffe wrote:
Regarding the government picking winners and losers, let's examine the Solyndra situation and compare it to the whiskey tax of 1791 which led to the Whiskey Rebellion. Solyndra was a technology start-up with some new ideas in solar cell design, with a model projected to be price competitive with conventional solar panels while having certain advantages due to their different geometry. As part of the stimulus program, Solyndra received
business loans
from the government to expand its business and enhance economies of scale. So what happened? Development of conventional solar panels (which also received stimulus money) improved so much that their cost fell below where Solyndra's panels could compete.
The market
picked the winners and losers there. Now, let's see what the Founding fathers had in mind. Whiskey was a popular beverage at the time, and it was considered (by the wealthy Founding Fathers) to be a luxury and therefore a possible target of taxation without much opposition. However, western farmers often distilled their grain into whiskey to preserve it and to ease transportation over the Appalachian Mountains, and they used it in barter as well. The tax had two options for payment: a small amount per gallon and a larger flat payment. Smaller western distillers opted to pay the per-gallon fee because it was cheaper for their small production amounts, but large eastern industrial distillers opted to pay the flat fee because it was effectively much cheaper per gallon. Thus did the tax directly pick winners and losers, with the difference being a large chunk of the profit to be had in the whiskey market. And, as we discussed, when the western distillers made noise about it, Washington brought an army and stopped them.
So wherefore the accusations of picking winners and losers, particularly as something the Founding Fathers would not approve of?
Rough Giraffe wrote:
inherently
corrupting. Which is why his ideal vision of America was a rural, agrarian society with a very weak central government.
Rough Giraffe wrote:
Rough Giraffe wrote:
As for government intervention to protect rights, I can't find anything that says he was purely against that. The closest I can find is, "I predict future happiness for Americans if they can prevent the government from wasting the labors of the people under the pretense of taking care of them." That's more along the lines of an economic intervention, e.g., using the "general welfare" as carte blanch to give near-endless government handouts, even to failing businesses (Solyndra).
Jefferson
really
didn't like centralized power. He didn't trust the federal government to wield the authority to overrule state and local decisions. If he had weighed in on desegregation, he would have opposed it because he didn't think that the federal government should have the power to tell states not to do things like segregate people, regardless of his personal views on how appropriate segregation itself was. Further, he thought that such dependence on the intervention of others for one's well-being (however it comes about) subverted the functioning of a democracy, and that only voluntary bottom-up societal change was morally acceptable. Keep in mind that his ideal participant in democracy was a yeoman farmer who could satisfy his (women were considered to be inherently dependent on men and therefore unsuited for participation in democracy) daily needs on his own farm. Society just doesn't work that way anymore, and to a large extent, it never did. Society is built on interdependence, and during his presidency, Jefferson recognized the pragmatism of centralized power, even if he didn't like it on ideological grounds.
Rough Giraffe wrote:
John Adams wrote:
Debts would be abolished first; taxes laid heavy on the rich, and not at all on the others; and at last a downright equal division of every thing be demanded, and voted. What would be the consequence of this? The idle, the vicious, the intemperate, would rush into the utmost extravagance of debauchery, sell and spend all their share, and then demand a new division of those who purchased from them.
He's talking about literally dividing up all monetary and physical wealth equally among everyone. Meaning a communist-style overthrowing of society (though without a communistic economic system), not an income tax. States were collecting income taxes, Adams's administration collected taxes, and Adams himself was a Federalist in favor of a strong role for the central government. The whole document is a warning against unlimited, direct, tyranny-of-the-majority-type democracy, because for most people, conditions really sucked:
John Adams wrote:
Suppose a nation, rich and poor, high and low, ten millions in number, all assembled together; not more than one or two millions will have lands, houses, or any personal property; if we take into the account the women and children, or even if we leave them out of the question, a great majority of every nation is wholly destitute of property, except a small quantity of clothes, and a few trifles of other movables.
Conditions really sucking for most people was a big reason behind popular uprisings through history, including the Communistic revolutions of the 20th Century. it didn't happen in the US because corporate leaders caved to union demands like a minimum wage, a forty-hour work week, and workplace safety regulations, and because political leaders were able to maintain some appearance of representing the interests of the general population.
Rough Giraffe wrote:
economic
conditions than we do, and that as real, imperfect people rather than myths, their statements are not Unquestionable Truth with which we may confidently and uncritically guide society forever.
*"Are you saying my questions about the constitutionality of the 16th amendment are irrational?" Please think carefully about this sentence.
Rough Giraffe wrote:
Rough Giraffe wrote:
The best I can offer is to point out that our GDP is over $15 trillion and that even 20% of that (if it were a sales tax) is more than we take in in federal income taxes (income taxes account for only $1 trillion, the rest being excise taxes and so on). I realize that that's a very simplified way of explaining it, but if a flat national sales tax were to replace the federal income tax while still allowing a much smaller state income tax (but no state sales tax), and while still allowing a provision to give those below the poverty line (or those whose post-tax situation would place them below the poverty line) a "prebate" on the sales taxes they would spend, the situation moves from placing a burden on the lower-income families to allowing it to remain on the higher-income earners (as it already is and has been).
You're describing the FairTax. I critiqued it
here
(it begins at "I've heard of it, and the tl;dr version is that it really isn't."). The FairTax is problematic for a number of reasons outlined there and in the following several paragraphs, including math that doesn't work, huge incentives and opportunities for evasion, and major shifts in tax burden glossed over by most of its proponents. Also, "excise taxes and so on" make up a relative pittance. Nearly all federal revenue is from income taxes, whether individual, corporate, or payroll.
Rough Giraffe wrote:
Rough Giraffe wrote:
Rough Giraffe wrote:
one of Obama's opponents
is completely accurate. As I said, GDP is not what matters for bankruptcy, and the total wealth of the US is
more like $200 trillion
. Not even Romney's plan calls for a debt that large in the foreseeable future.
Rough Giraffe wrote:
net
interest on the debt and government
expenditure
. Because the government is currently loaning money and collecting interest from it, a good chunk of the interest payments on the national debt are offset by interest gained from debt owed
to
the government (this is one of the results of all the "bailout" and "stimulus" loans that were thrown around in the financial collapse). In terms of managing the federal debt, it is the net figure that represents how much input it costs to maintain things, so that's the figure I used. I used expenses rather than revenue because expenses represent how much the government can spend on different things, which was the concern I was addressing. The text for Dollar 1 said that the federal government would soon not be able to afford the interest payments on the debt if the entire budget were directed towards that. This is clearly a question of expenditure.
Rough Giraffe wrote:
interest rates are extremely, remarkably low
. The interest rate that the government pays to borrow money is lower than the rate of inflation. This means that if the government takes out a loan to buy something worth $X, the amount it will eventually have to pay back, after inflation and interest, would be worth less than $X in the year of the loan. This makes deficit spending a lot less problematic than it normally is. For example, look at the gross interest payments
listed at the site you linked earlier
. When the debt was half as much as now, interest payments were about nineteen percent lower. For FY1988, the earliest year for which interest information is available there, interest payments were about half as much as FY2012 while the debt was about one sixth as much.
Rough Giraffe wrote:
Rough Giraffe wrote:
approximately Keynesian economic policies
.
Rough Giraffe wrote:
actually
increased revenue (as opposed to merely collecting a smaller part of a larger economy after normal growth), don't you think that reality would look more like
this
than
this
? You need to understand that usually, increasing taxes really does increase revenue, and cutting taxes decreases revenue, even over time. This is because growth and economic activity are not only uninhibited by a high top income tax rate, growth is historically better with a high rate. Not even
Reagan's budget guy
believes that cutting taxes increases revenues in real life. I said a little more on this at the bottom of
this
post.
Rough Giraffe wrote:
this
, it was $58.4 million in FY1829. If you look at the data for the years around then, you will see that the debt was being paid down before Jackson, that Jackson paid it mostly with taxes (Tax revenue about doubled while gdp increased by about 50%, and that the mostly-tax-based surplus from 1836 alone was more than all proceeds from land sales from Jackson's presidency to that time. As you said, the following recession forced a deficit - do you think that recessions impact tax revenue or land prices more?). Note that 1829 GDP was $921 million, so the debt was about 6.3% of GDP (down from 33% in 1792 and from $127.3 million in 1816). Government revenue was $26.5 million, or about 2.9% of GDP. In 2000, revenue from the federal personal income tax alone was about 12% of GDP, so a simple application of arithmetic suggests that, if Jackson had applied something like Clinton's income tax in lieu of all other revenue, he would have been able to pay off the national debt with his first budget and had a surplus of about 3% GDP to spend on dueling ammo.
Rough Giraffe wrote:
*Remember how
high income inequality is bad for economic growth
?
Rough Giraffe wrote:
Rough Giraffe wrote:
Rough Giraffe wrote:
This probably wouldn't directly affect trade with the nation inasmuch as the products that are sold in America (unless of course America decided to enact an embargo or boycott or whatever),
Rapid inflation in the US would lower the exchange rate of the Dollar, which would make US-made products more affordable to people in other countries and other countries' products more expensive for people in the US. Imports would fall, and exports would rise. Average purchasing power would probably fall short-term as Chinese imports get more expensive, but domestic manufacturing would increase.
Rough Giraffe wrote:
however it might force America into a panic to dramatically cut spending in an attempt to prevent austerity... which is something we should already be doing.
Not quite sure what you're getting at here, since
austerity
basically IS drastic spending cuts. And it would be a bad thing now. If anything, social programs, public projects, and state / local aid should be increased somewhat, while deficit reduction should come from tax increases targeted to those currently doing well (read: high-income corporations and individuals). Spending cuts should wait until an economic boom gets going.
Rough Giraffe wrote:
Dollar 11
, which criticizes the Federal Reserve's monetary policies dealing with the crash. Should I take your response to mean that you consider it to have been appropriate?
Rough Giraffe wrote:
Dollar 13
, which expressed a concern that the institution of a different international reserve currency would reduce foreign investment in the US, bringing about a "Depression of dismal proportions." As I said, potential troubles associated with changes in global reserve trends depend on how the changes come about. After World War II, a coordinated international effort replaced the Pound with the Dollar as the standard global reserve currency because it would better serve the world's economic needs, and the UK did fine. If people suddenly go crazy (as has been invoked rather often here in proposals for why we should be worried about various things), things could get bad, but then real-world policies have to deal with real people, not imagined crazy people who will gleefully follow arbitrary scenarios describing economic collapse for no reason. Can you clearly describe what your concern is here?
Rough Giraffe wrote:
a
Dollar relative to other units of currency (its exchange rate) and the "strength" of
the
Dollar as a reserve currency. The
exchange rate
relates how much of one currency you can buy with a given amount of another. With fiat currencies, this is arbitrary except as the currencies are associated with particular measures of value in the economies in which they are used. And so as economies change over time,
exchange rates vary over time
. This can influence the relative prices of goods in foreign vs domestic markets, and thereby affect trade balances, but it does not relate very much to the size or health of the economy backing the currency. A Pound can buy more than a US Dollar, which can buy a lot more than a Yen, but those are just the units of value, and do not reflect the strength of the economies in which they are used (remember how the Dollar experienced deflation - it became "stronger" - during the financial crisis?). As for the "strength" of the dollar as a reserve currency, a reserve currency is used to manage international monetary policy. A good reserve currency would have a relatively predictable value, wide international acceptance, and a very large economy which uses it to do business. The US Dollar is without peer in economic backing and international acceptance, and pretty good on predictable value (the Fed has been rather effective in that regard). As such, it remains the global reserve currency of choice. Dollar-using economies are growing, and absolute use of the Dollar as a reserve currency is rising. It's just that some other economies are growing faster, and the Dollar's relative share of global reserve currencies is declining a little. So whether or not that means that the Dollar is stronger or weaker as a reserve currency depends on whether you mean relative or absolute strength.
At any rate, the economy stopped "slumping" in early 2009 when the recession ended. Or perhaps you are invoking some other measure, like the unemployment rate, which topped out a bit later in 2009, or stock prices, which also began getting better in 2009. Or some other measure yet. And please remember that the government has printed money and borrowed over its entire history, and that its most extreme deficit spending ever (WWII)
coincided with its fastest economic growth ever
.
Rough Giraffe wrote:
Dollar 15 wrote:
American exports are continuing their decline; imports are also plummeting, but not as sharply as exports, contributing to a widening trade gap. In essence, America's economy will continue to decline. So here we have a perfect fiscal storm; quantitative easing by the Federal Reserve, massive overseas borrowing by the Federal government to pay its basic operating expenses, and massive borrowing or printing of dollars to pay for imports not covered by the net value of America's exports.
Exports, imports, and America's economy are now increasing, in direct contradiction to McNaughton's predictions of doom. Would you care to elaborate on how you think the trade deficit is a problem? Do you know what trade-deficit dollars are used for? Currency reserves and investment in the US. It's not a perfect situation, but there
are
benefits to it, including ones which you seemed to be worried about losing above.
Rough Giraffe wrote:
myth
.
Rough Giraffe wrote:
someone
was going to have to pay for stuff if stuff was to get done.
Rough Giraffe wrote:
What Washington was trying to do was prevent unnecessary bloodshed (people were attacking the tax collectors---government officials who were just doing the job they had been assigned). As Washington came to town with his army, the riot disbanded before he actually got there. It's not like Washington really did anything but show his ability and willingness to enforce the law. It turned out to be greater than the people's desire to protest it.
Indeed.
He showed his ability and willingness to enforce the law.
A law that picked economic winners and losers in an unprecedented tax increase. Because he respected Congress's authority to make such laws. So it is inappropriate to insinuate that Washington would have opposed Obama's Congress-approved policies on an ideological basis.
Rough Giraffe wrote:
Anyway, for the debates. I find it remarkable the
degree
to
which
Romney and Ryan are basing their campaign on outright lies and "
Etch A Sketch
"
reversals
of earlier statements. Like
the
three
debates
so far. One cool thing that came from it was the
Big Bird ad
. It's like something from the Colbert Report, and it's like a glimpse of the awesome that a Herman Cain candidacy would have been.