Ninjachick4 wrote:
Naruto? Kingdom Hearts?
Geeze, I was thinking Bible the whole time. Rosey and Posey are not the Arbaic verisons of St. Kriznes and Luntriz?
...Oh! I guess it ALL comes down to what you know.
Scary Girl with lots of eyeliner who looks like she hasn't slept in forever = Garra? I would have said Edward Sissor Hands due to the pale look she has and the saw for the slice and dice. Throw in some Nightmare On Elm Street Kazy Krugar and you've got yourself a Red. Lol. But that's how I see all that.
My opion is- you can't get away from it End. There's just NO WAY. Everything realates to something like you said. If you've given Red a wand that would have been to close to Harry Potter. If Red was really Blue, I would say Zelda's Link. Just try to stay away from the grand ideas, which you didn't do here btw!

What happend to Red's kick ass normal huge saw blade of jaggadness? That was orginal cause it was JUST the tool saw, raw, rather than now. No razzel dazzel, no magical know-how behind it, no Gods or Godess behind the creation of it. Just a weapon weilded by a cranky pants girl with murder on the mind. Now you've made it into a sword. How come?

But non the less! It's people's POV. Alls I know is that I love this page and I can't wait to see what the chains are!!!
Heh heh. Her normal kick ass saw blade of jaggedness was kind of mundane, to me. I like stuff that looks more unique. Besides which.. there IS a story behind the saw itself, sorry to disappoint, heh, but it was always a part of the plot itself. It's not huge, but there's a part of the story that addresses it.
And it's not really a sword either. The only thing that changed since the prologue is it's less jagged and there's a carving on the handle. But it's still in the works, really. Actually I meant to address that in a future post, haha, because people are going to be like 'It changed AGAIN!?' a few pages down, but yes, sure enough it does, so you'll all have to deal with it, till I can go back and make the necessary edits.
All right, actually, I drew up an example: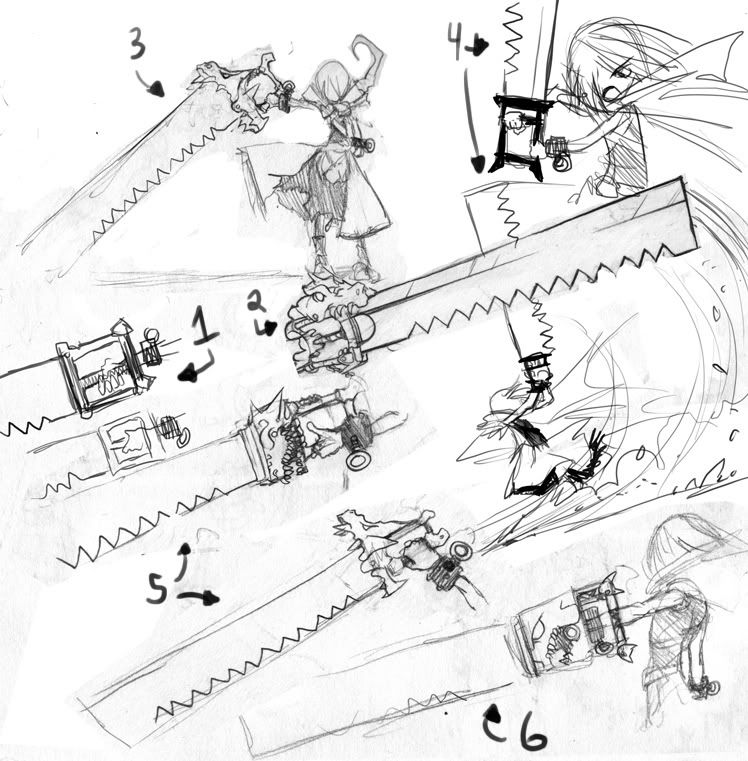 Now keep in mind here folks, I don't WANT something conventional or at all logical in terms of a weapon. I just want her to be able to look like she's wielding it convincingly.
1. An example of the handle in the middle I was talking about, so it would basically be held like a sword, only she would probably use both hands on various parts of the handles to manipulate the blade in a variety of ridiculous ways. Heh.
2. An example of what the sawblade will look like in about three more pages. (I told you Everafter was an experiment! Expect a lot of rough cut changes in the beginning folks! I'm hoping to have it all hashed out in the first chapter, it would just be inappropriate to keep switching things around afterwards. At least then if it ever goes to.. publishing or something, I could just alter the first chapter accordingly.) This is the same design as on the left, a handle in the middle.
3. Another design that mixed the saw and giant blade type of weaponry, with a re-design on the wolf hilt. Which, actually, as awesome as I think a wolf hilt would be, may just be too complicated looking to keep on.
4. The design I'm leaning more towards, a two-handed approach that CAN be wielded with one hand as well, but only in long swings with a lot of 'umph' behind them. Below this is an example of a swing, heh.
5. More experiments with counter weights and handles and such.
6. Some bizarre ass design where her hand is actually inside the hilt itself.
Again. I like the weapon to be a bit unwieldy and strange to the viewer. This way Red will clearly have some weaknesses in terms of her manuevering with the blade. A character isn't interesting without weaknesses, or their fighting style, as it were.