Mon Oct 07, 2013 8:13 pm
looks like a cuttlefish

actually it's just a squid.

i don't see where you're getting a cthulu vibe from outside of your lovecraftian/pokemon fusion wetdreams
Tue Oct 08, 2013 12:26 am
Pfft! Okay that last part made me laugh a bit Grey.

Anyways, I was only repeating what OTHER people have been talking about this creature on the internet.

When it comes to Cthulhu mythos I don't actually like the Lovecraftian books. I prefer it when stuff like that is told to me via pop culture. I like the stuff that's come out of Locecraft's work more than his actual work. If that make since. Also, if I ever met Lovecraft in real life I would've probably hated his %$#ing guts because (from what I've heard at least) he was a racist bigot with ideas horrible even for his time.

I just thought it was a funny little thing that's going on in the Pokemon fandom take from it what you will. Personally I would've never seen it as Cthulhu inspired if the fandom wasn't all a buzz with it.

Still that last part was funny, Grey you crazy man, you crazy.
Sat Oct 12, 2013 3:02 pm
Got my X version!
Sat Oct 12, 2013 4:45 pm
i'm due some money from the govm't

i think when it comes i'mma have to invest in a 3DS
Sun Oct 13, 2013 2:27 am
Ok I have a Skiddo named Harley, how the fuck do you ride it?
Sun Oct 13, 2013 4:38 am
There will probably be some tutorial after beating a certain gym.
Tue Oct 15, 2013 1:52 pm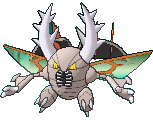 Holy shit.
Tue Oct 15, 2013 6:23 pm
I haven't even begun to enjoy my game, I'm desperately trying to get a shiny fennekin. Hopefully I'll get it before the week is up.
Tue Oct 15, 2013 7:23 pm
Do you know that you can? Sometimes they program certain Pokemon to never appear shiny, like Victini. Granted, it's only been with legendaries for the sake of gameplay and story segregation.
Tue Oct 15, 2013 7:31 pm
Yeah, it's possible. Every starter pokemon can be shiny through soft resetting and loading from a save just before the selection screen.
Tue Oct 15, 2013 10:01 pm
AngelofGeek, have you heard of the Masuda method? If you breed 2 Pokemon of differing real world origins (like a male Rapidash from Japan with a female Rapidash from Europe) the chances of the offspring being a shiny are increased. It goes from 1/8192 to 1/1365. The 1/8192 statistic applies to all wild encounters, normally bred Pokemon, and special Pokemon (starter, legendary, etc.). So chances are that you'll get one shiny out of 8192 soft resets. Obviously you could get it faster, or even slower, but it's still really rare. The Masuda method would be much faster though. The day care is pretty early in the game too, between the 1st and 2nd gyms, just after you visit the Parfum Palace. So you could get your shiny there, easily train it up to your team's level with how awesome exp share is now, then just have it replace the one you first got.

Most people just get a foreign Ditto from the GTS or from someone on the internet. Other benefits to breeding for a shiny include being able to guarantee the nature of your Pokemon, pass down egg moves, and even get the hidden ability on your shiny, providing the mother has the hidden ability. To guarantee the shiny Pokemon's nature, use a parent that has the nature you want (so if you want modest, breed for a modest Fennekin first) and have that parent hold an everstone in the day care. It was changed this gen to have a 100% chance of passing the nature down to the offspring, rather than 50% like previous gens. Then get a Pokemon with the ability Flame Body (the new fire bird works) or Magma Armor since they halve the steps needed to hatch eggs if they're in your party.
Tue Oct 15, 2013 10:04 pm
Well I've heard of the masuda method, but to be honest, I really want to start off with a shiny fennekin, there's also I think a rumor that it went from 1/8192 to 1/250
Wed Oct 23, 2013 12:08 pm
So what are impressions of the games so far?
Thu Oct 24, 2013 1:55 am
Team flare is fucking dumb but I love the way they look:
I love alot of the new pokemon designs but there isn't as many as I'd like and there are alot of weird additions that are the same types (love both though):
http://www.serebii.net/pokedex-xy/709.shtml
http://www.serebii.net/pokedex-xy/711.shtml
I'm glad they didn't pull that Black and White bullshit where they didn't allow you to catch oldies until you got your national dex, but fuck I wish I could have a party of like 80 because I need sooooo many pokes in my party.
Fri Nov 01, 2013 9:38 pm
Got Pokémon X. I've been super training and boy is it tiring. xD
Fri Nov 01, 2013 11:36 pm
Hey Storm, Welcome to the forums! Yeah, the Pokemon games do seem quite like that